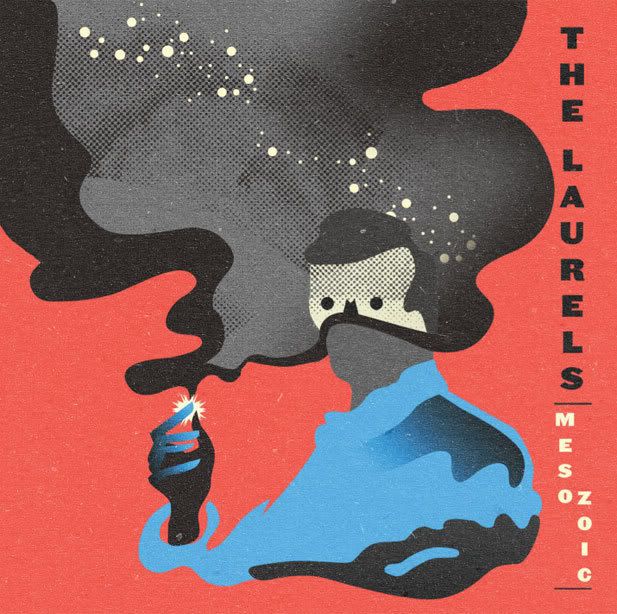 Other Tongues, 2011
Prenez un biochimiste, un dessinateur, un philosophe et un doctorant en histoire. Réunissez-les autour d'influences communes : My Bloody Valentine et plus ou moins tout ce que le shoegaze et la musique psychédélique ont produit de bon ces 50 dernières années. Plongez le tout dans le bain frémissant de la scène underground australienne et vous obtenez The Laurels. Formé en 2006, le groupe est parvenu à rassembler un noyau solide de fans grâce notamment à leurs remarquables prestations lives en première partie de Tame Impala, A Place To Bury Strangers ou plus récemment des Black Angels. Autant vous dire qu'ils étaient nombreux en juillet dernier à attendre la sortie de "Mesozoic", première production du groupe.
La rythmique lourde et hypnotique de "Black Cathedral", morceau rock teinté de shoegaze, ouvre impeccablement l'EP et s'impose comme modèle du genre. L'excellent "What She Does To Me", dans la même veine, lui succède brillamment. Puis on prend le temps de respirer sur le grisant "Turn On Your Mind" où voix et guitares se croisent et se confondent, avant de faire un dernier tour de manège avec "Merry Go Round".
"Mesozoic" aurait été excellent si il s'arrêtait là.
Les deux derniers morceaux le rendent indispensable.
La somptueuse ballade en crescendo "Run For Cover", porté par les voix des deux chanteurs qui se font échos, permet au groupe d'exceller dans un registre légèrement différent, plus orienté pop. "Until The End", morceau de bravoure s'étirant sur quasiment 9 minutes clôture en apothéose ce premier EP.
The Laurels, à l'instar des londoniens de Black Market Karma, possède ce supplément d'âme qui les distingue de la plupart des autres groupes. "Mesozoic" en est la preuve éclatante. Il n'y a rien à dire de plus, si ce n'est qu'il faut absolument écouter cet EP.
The Laurels, in the manner of Black Market Karma, has got that little something special distinguish themselves from most of the other bands. "Mesozoic" is the evidence. There's nothing more to say excepted that everyone have to listen to this EP.